D. Weaver and Associates
Manufacturer's Representative
Since 1991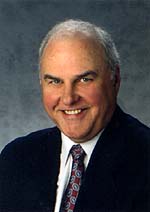 DENNIS WEAVER
25 Years Experience Serving the Metal Industry
and Related Markets

EXPERIENCE TO PRESENT
D. Weaver & Associates- October 1991 to Present- Owner
Hard-hitting manufacturer's representative organization concentrating on the metals industry. Responsible for development of customer contacts, sales territories, personnel, forecasting, goal setting, and overall direction of the company. Services and products offered by the company are carbon and graphite machined products, custom molded urethane products, air handling Equipment products and systems, baghouse engineering- design and build, general fabrication, machining, specialty environmental products and services, heat exchangers, code vessels/tanks, drives and motors, fume exhaust system for rolling mills and sales/marketing consulting. In '92, volume was $300,000; 1993 volume was $900,000; 1994 volume was 1.2M; 1995 volume was $1.6M; 1996 volume was $1.9M; for 1997 $2.4M; and 1998 $2.6M.
ATSI, Inc. Amherst, NY- Engineering Services- August '89 to October'91- Manager
Market Development. Duties were to develop, direct and successfully execute ATSI's Steel Sales Marketing Program with responsibility for growth and direction of ATSI's entry into the mini-mill marketplace.
Circleville Metal Works, Circleville, OH- September '87 to May '89- Vice President, Sales & Marketing
No. 2 man in organization with responsibility for profit and loss, plus growth and direction for three divisions of CMW, Inc. Metal Fabrication Division, Machine Division, and Special Machinery Division. Full Responsibility to set goals and objectives for CMW. Moved sales volume from $6M to $8M+ base during tenure.
Union Carbide Corporation - Carbon Products Division - January '69 to September '87
---
For further information use the electronic form available here, or contact:


D. WEAVER & ASSOCIATES
1344 WILKSHIRE CIRCLE SW
NORTH CANTON, OH 44720
OFFICE: (330) 499-1779
FAX: (330) 499-0916
Email info@dwaassoc.com
---